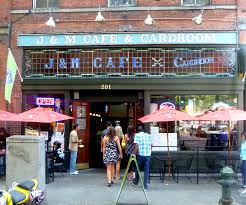 A Few Nights Out - True Tales HumorOver the course of his lifetime
there have been many, various and unknown (to me) rock bands at places like Seattle's Central Tavern, the Zoo, and other bars around Seattle. And in various cities, Manhattan, Seattle, Tacoma, Bellingham, Chicago (Buddy Guy's Legends Blues Club), Champaign\Urbana in Illinois, Hawaii, and others. But he has enjoyed Seattle bars the most (granted, perhaps because he lives there).
He claims to have had the most interesting experiences in Pioneer Square bars, especially since his (last) divorce in 2002. Sometimes around that time, when he didn't have both of his kids with him over the weekend he would go to Seattle on a Friday night and explore its wonders. Something strange and wonderful always seemed to happen. Where he lives is a ferry ride from downtown Seattle's Coleman
At least there was always something interesting to see, or to smile about. Once, just out of curiosity he walked around late on a busy weekend night with $20 bills hanging out of his pockets, as he walked through a pretty seedy part of Pioneer Square. But no one bothered him or even asked for money. He's felt pretty safe there ever since. Not that he would suggest ever trying that. Anywhere.
There are bars in Pioneer Square like the world famous
Central Saloon
(est. 1892), right next to the the notorious
J&M Cafe
(est. 1889) on the corner, or the
Pioneer Square Saloon
where he met his last wife. There was the Backdoor and
The Last Supper Club
, both closed now as is the
Fenix Underground
, once owned by
John Corbett
(of Northern Exposure fame, he was the DJ), The
Fado
Irish Pub (used to be the
Tir Na Nog)
, below it another Irish Pub, the
Owl and Thistle
. There are three bars down the street that used to open huge inner doors and become one large dance club until 2am, when they would kick everyone out, lock up the booze, then let everyone back in to dance till 6am sans alcohol.
North up the street at Pike Place Market is a writer's haven the
Alibi Room
and
Kell's
awesome Irish Pub. Further on up in Belltown, the
Crocodile
and on and on....and that's just a couple parts of downtown. So many bars, so little time.
This is no big deal. No amazing tale here. We all have interesting stories about times we got a bit wild. There are other stories that might not need discussion here in possibly mixed company. The following are just a few nights of mention, when a guy went out on the town and what came of it.
Before those days... a moment if you will, to tell you about another time. A previous time.
This from Murdock's previous divorce and how he took a friend out on the town. A guy who was new to Seattle. Murdock having been living in a house in the U District, where he rented a room from a woman who had a lease on a house. He had found that house because he answered the phone one day. On a Friday, August 30th, 1991, the day before his birthday. He'd had to find a place to live before the end of the month (two days). While he was still living with his soon to be ex-wife. A wife who had a lover (which kind of caused the divorce).
He had answered the phone and it was a call for his estranged wife about a room to rent. He told her and she said to say she no longer needed a room. But before he hung up it occurred to him that he still needed a place for himself. So in the off chance that it was an opportunity he asked and got an appointment to visit the next day. Which resulted in being his next home for the next nine months.
When finally he decided to move on and out the woman he lived with found a couple to replace her soon to be lost rent. It was a couple who had moved up from California.
More about that, later....when I have time to finish this.
For now back to just after the very last divorce.
Full disclosure
: Murdock has had been married 3.5 times.
Typically he would start a night on the town at the Fado Irish Pub
in Pioneer Square on First Avenue, just off the Ferry walkway. Or at Marcus' Martini Heaven (no longer in existence), or the W Hotel bar. These were his three favorite starting bars. He would either dress very casual, or dress up, just to see how it affected his night. He would either walk all over Seattle and hit bars as he came upon them, or stick to an area. But always starting out in Pioneer Square as that was where the ferry let out from Bainbridge Island. In doing this he eventually covered the entire circumference of downtown Seattle, but nott all of its bars, though he gave it a valiant effort.
This one time...
he says he started at the W Hotel bar, dressed up with a suit and a black cashmere overcoat, tie, the works. Sitting at the bar in a comfortable chair in a little "U" shaped section facing a couple of other overstuffed chairs, some a guy came up with some women and sat next to and opposite from him.
It turned out that
it was a singer in a rock band from Ellensburg, WA in town for some reason and their entourage. They had drive two vans over west of the Cascade Mountains and gotten a couple of hotel rooms. The women with them, all quite attractive, were called, "The Bitches". All of them were really nice and very aware of their looking out for and taking care of the singer who had this Jim Morrison kind of thing going.
He was a little drunk
and a bit boisterous to the waiter and I thought, pretty funny. A typical front man to a rock band but with something extra I gathered from his lady friends. I tried not to laugh while he was giving the waiter a hard time (fooling around really, not mean but the waiter wasn't quite getting that). The singer noticed Murdock trying not to laugh and nonchalantly hiding his smile with his hand, but he saw it and called called him out on it. He said, "He gets it!!" A little later he said, "I like you. You should come with us. We want to hit Pioneer Square and see what's up. Come with us."
They sat and drank
and talked for a while. The lead guitarist and drummer came by and then wandered off.
He wanted to go to Pioneer Square and ended up dragging Murdock along with them. They took both of the vans, ending up at the Central Tavern (see the photo above for this page). The singer at one point started harassing the lead singer of the band on stage for some lyrics about Jesus. It seemed that possibly he was trying to pick a fight. Murdock was having none of it, trying to keep the peace as the singer on stage seemed to be thinking of beaning the guy with his guitar.
He finally got the singer
headed out to the sidewalk. And all this in a suit, not a leather jacket and jeans or something. Then it happened again as they walked down he street past a couple of big African American guys. Again, Murdock tried to calm things down. He'd been in plenty of situations where he had to neutralize tense situations but he wasn't used to doing it because of someone he was hanging around with. The two guys were reasonable and nothing came of it. But the singer seemed to think things were too tame. It was about then that he realized why the women were so protective of the singer and that he probably needed this kind of attention and protection, a lot. The guy was a lot of fun, and maybe not drunk he was less loud and brash. It was like he was always on stage.
All things considered that night is reported to have still been a lot of fun. O
nce the singer and his entourage decided they wanted to head back to the hotel to party, as it was getting on to 2AM, the last ferry home was waiting. So the hotel invitation and the possibilities of what might transpire there were begged off from. He asked instead to be dropped off down at the ferry terminal, much to the singer's disappointment (and one or two of the ladies, or so he likes to think, who wouldn't?). It was too soon after Murdock's recent divorce, so the entourage drove him down to the terminal and he caught the last ferry of the night home. Wondering all the while through the thirty-five minutes ferry ride, just what in the hell he was thinking, and continued wondering about that for at least the next year or two.
Another Night OutSomething like that happened another time
only with four women in their early 20s. He had gotten to the Fado Irish Pub and sat in the front along the long bench seat that goes along one wall with tables facing it and two chairs on the other side of each table, easily seating four. The place was packed. Next to him was a foursome, two guys and two girls. One guy seemed to like to speak out about things, only slightly annoying. Once in a while something would be said between Murdock and the friendly group next to him as they all sat there in loud chatter and music of the crowd.
Finally four attractive women
in their mid twenties showed up and asked him if they could join him. He smiled. That was as far as he got when the guy next to him saw his big moment and spoke up. "That's what he's been waiting for all night," he said. Exactly what you wouldn't want someone to say in a situation like that. Murdock couldn't believe he had said that. Why? Why would someone say something like that?
But the women had class
and simply ignored it. They smiled at the guy, then at Murdock, waited for him to ask them to join him, and they did. Almost as if it were a slam on the guy in the next table over, who after that, just kind of faded out from talking to them. Over the next couple of hours the five of them chatted and got along very well. It became obvious these were friends who had traveled around the world together and seemed to have access to a good amount of money. Family money.
Finally Murdock thought it was time
to move on. So he made his apologies and said his good night, wishing them all a fun evening and headed out. He
hit a few bars, having an occasional drink, listening to the music at a few places; some live, some not. He kept running into those girls, seeing them at several bars around Pioneer Square. It was fun, like running into new friends, and then he'd move on. Finally he knew he was hitting his last bar for the night. It was at the now closed Backdoor, which had been owned by a Russian immigrant. A cheerful guy who enjoyed being behind the bar in the middle of the mayhem, running things from close up.
And there were the women
once again. Now though there were only two of them left standing in the packed dance club. One was a blond and the other a brunette. The brunette seemed interested in moving between the three of them and another group. But the blond seemed very happy to just hang with him next to the dance floor. He quickly got the feeling that he could take this as far as he wanted. The idea of a hotel room started to seem more and more reasonable. But instead, he ended up saying his goodnights as politely as he could, trying to not let her dissuade him and he simply headed down the many steps, out the back door and on to home, once again on that last damn ferry.
There was this other time....
Murdock took another friend out on the town. A friend at work had his wife leave him. Murdock in knowing that feeling, in having explored the nightlife in Seattle (see above), told this friend, "Let me take you out on the town. Show you what I've discovered. The hidden secrets. The fun stuff." And so off they went.
More soon....
---