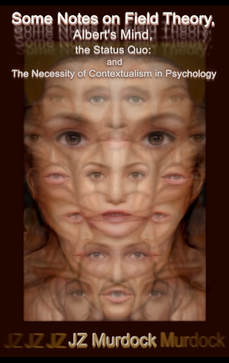 JZ Murdock has a B.A. in Psychology in the Awareness and Reasoning division, specializing in Phenomenology, from Western Washington University. His non-fiction has been published in various local and national print and digital magazines.
​Quotes Along The Murdock pages one, two and three from Murdockinations.com
2014 Press Release
​Psychology Articles
Some Notes on Field Theory, Albert's Mind, and the Status Quo: The Necessity of Contextualism in Psychology
- The study, control, and understanding of schizophrenia has been hampered by lack of information, inappropriate tools (like no computers of sufficient complexity for handling of compilation and dissemination of data), obviously a lack of appropriate software for such research and perhaps most simply, the incorrect approach. Also includes the next article below.
Amazon
Smashwords
Video
Psycho-neurologically Approaching a Field Theory Understanding of Schizophrenia via Research of a Non-normative, Non-pathological Syndrome: Synesthesia, and the need for more information
- This available in the article above as well as being offered free as a community service. Since we must always reconsider, re-evaluate and redirect our attempts at helping the schizophrenic individual, this paper is directed toward this effort at seeing the schizophrenic person through the "filter" of a "normal" condition such as, synesthesia.
Smashwords
Video
Purpleism
As an absurdist religion,
Purpleism
was created by Murdock and his son for the masses. Back when his daughter was in junior high and his son was in high school, they were watching TV one night. Being annoyed by the screen "
bugs
" (ads at the bottom of screen) taking up too much screen territory on the screen during a show we were watching.
These "bugs" exist on the most valuable territory in the world, that of the TV screen where they have a captive audience. For many years son and father had a habit of pausing shows on the DVR and talking, sometimes taking an hour or more to get through a half hour show. Something that was seen as an educational thing, a time to spend together so it wasn't just mindlessly staring at a TV.
They got to talking that night and laughing and having a great time. They then realized there were other things that annoyed them in life, in social situations, in relationships. So that night they invented the absurdist religion called
Purpleism
or, the
Church of the Pure Purple
(see also the
Urban Dictionary reference
or its
Facebook
page). Also referred to as the
Temple Purple
.
As the
Urban Dictionary article
about it states, it was created: "decrying the unaesthetic in life as a reaction against all the stupid religious nonsense going on in the world." Also, "Camus perceives filling the void with some invented belief or meaning as a mere "act of eluding"—that is, avoiding or escaping rather than acknowledging and embracing the absurd.
To Camus,
elusion
is a fundamental flaw in religion, existentialism, and various other schools of thought. If the individual eludes the Absurd, then he or she can never confront it."
Wikipedia
. That night they had wanted to deal with certain of those things in a way that is humane, sane and intelligent.
And so, Purpleism came to be.
In The MediaOn Indies Unlimited- Meet the Author: JZ Murdock- Article on JZ Murdock by LA Lewandowski: "
Gender Bender
"- Special Choice 4/6/2012: "
Freebie Friday
" for
Anthology of Evil
- Special Choice 5/4/2012: "
Freebie Friday
" for
Death of heaven
- by Blake Basell (quoted):
"Martial Arts Teaching The Mind"
[
Local Copy
]-
Author Interview
by
Sumiko Saulson
"Chasing Ice" A Film Review
part 1 [
Full PDF
] Commissioned by
PerihelionSF.com.LGN Productions - Facebook
The Murdock Society (old version)Links & JZ Murdock on Other Sites
History - More About JZ Murdock
List of some bands\concerts attended over a lifetime
A Few Nights Out
Childhood - Things No One Believed
Just for fun - Near and Dear Favorites
This is almost a foolish endeavor, but I'll offer a few of various elements that had an effect on me and my character through the past decades.
Writers \ Horror-
EA Poe
-
Clive Barker
-
RE Howard
-
HP Lovecraft
-
Cal Miller
- Zombie fiction
Writers General Fiction\Comedy\Poetry- Kurt Giambastiani
(A long time favorite, Mr. Giambastiani's excellent
Fallen Cloud
series of revisionist historical fiction. Well researched and well written.)
- Dorothy Parker- Tom Robbins- Mark Twain
- Kurt VonnegutWriters
Science Fiction (These are just a few.)
- Brian Aldiss- Isaac Asimov- ER Burroughs- Robert A. Heinlein- Andre Norton- HG WellsWriters Espionage / Spec Ops Fiction
Murdock's primary orientation for many years into his twenties was non-fiction espionage and he refused to read "spy fiction" until after he realized he was no longer headed in that direction as a career.
He was very serious about working in the espionage field. He entered the Air Force in Law Enforcement, later joined the AFOSI, the Air Force's FBI, in fact he used to read FBI magazine in their lobby while waiting to see the base OSI CO toward being tested, vetted and accepted. Which he finally was. But that story, for another time.
- Tom Clancy
- His older stuff.
- Len Deighton
(The
Berlin Game
three part trilogy series and other books) - In
1988 the father he didn't grow up with, died. His parents had split up in Spain in 1958 when he was three. After the memorial for his father, he reconnected with his younger brother whom he hadn't seen since the younger siblings as eleven and so he didn't grow up with him. He found in the several things given to him that day, that their father had been coincidentally reading Len Deighton's book,
Berlin Game
that year before he died
.


Berlin Game

began Mr. Deighton's excellent series of fiction books about the spy Bernard (accent on the latter

syllable

) Samson, an employee of Britain's foreign intelligence branch, MI6. Murdock had recently watched the video series of this, which he very much enjoyed, starring one of his favorite actors, Ian Holm. Mr. Deighton himself hated this series with a passion, thought that Mr. Holm presented a veer poor version of the Bernard character, and did his very best to quash the series. Which was why it was so hard to find DVDs of it. Eventually a set was discovered in Australia. Called "
Game, Set, Match"
In the latter part of his teen years and the first part of his adult life,
- Dick Marcinko
- (His older stuff)
Writers Speculative Fiction
- Ray Bradbury- Arthur C. Clarke
- Harlan Ellison- Philip K. Dick- Stanislaw LemWriters Fantasy
- JRR Tolkein
- Jim ButcherWriters Non-Fiction -
Here could be listed many more including ex-Intelligence chiefs, operators, defectors, etc. but for now....
- Jeremy Scahill
- Fareed ZakariaComics / Humor- Abbot and Costello- Burns and Allen- Woody Allen- Lewis Black- George Carlin- Billy Connolly
- I like Billy so much I used him as a model for a character in my screenplay,
Gray and Lover The Hearth Tales Incident- Bill Cosby
- From
I Spy
(as the first African American to co-star in a National TV show), to his comedy records and stand up,
The Cosby Show
and all things considered, he had a big impact on my early life as he did many of us. My ninth grade Mechanical Drawing teacher used to let us listen to his comedy albums in class while we drew our "plates" or drawings. Those comedy albums were all the talk and humor in my family all through the 1960s. Present revelations notwithstanding, and I felt I had to mention him. But considering his situation anymore, I'm not offering a link in protect to his bad choices in his life. Which saddens me greatly to have gotten so much from someone and to have had that not taken away, but darkly colored with the pen of disrepute.
- Louis CK- WC Fields-
Chelsea Handler
- and her books and her show Chelsea Lately
- Kids in the Hall- Alurel and Harrdy- Stewart Lee- Monty Python's Flying Circus-
Dylan Moran
- and his show, Black Books
-
Bob Newhart
- and The Bob Newhart Show and even the sequel
- The Marx Brothers
- Anything
-
Robin Williams
- the late and great
- Stephen Wright- The Three StoogesFavorite Books
(Just a various few)
- A Distant Mirror
The Calamitous 14th Century - Barbara W. Tuchman
- A Voyage to Arcturus
- David Lindsay
- Berlin Game
(the series by Len Deighton) I also very much liked the Ian Holm video series which Mr. Deighton despised. It's not unlike Blade Runner in that both versions of that film are very good in my view.
- The Dresden Files
- Jim Butcher
- Dune
- Frank Herbert
- The Foundation Trilogy
- Isaac Asimov
- The Hobbit \ Lord of the Rings
- JRR Tolkein
- Urantia Book
(not so much for its content however...long story)
- Jurgen, A Comedy of Justice
(
James Branch Cabell
)
- Phenomenology of Perception
- M. Merleau Ponty
- Something Wicked This Way Comes
- Ray Bradbury
- The Urantia Book
-
There are really so many
that could be listed here like,
I Know This Much Is True
by Wally Lamb, or
Angela's Ashes: A Memoir
by Frank McCourt, but these are some of his most affecting reads from the beginning of his reading career as a child into adulthood. The same goes for films listed below.
Film Directors- Woody Allen -
.I studied three directors in college, he was one of them.
_ Ingmar Bergman -
I studied three directors in college, he was one of them.
- Kathryn Bigelow- Luis Buñuel - Coen Brothers- Frank Capra
-
Federico Fellini
- Werner Herzog- Alfred Hitchcock -
I studied three directors in college, he was one of them.
-
Kelly Hughes
- Called by one magazine the
John Waters of Pacific Northwest Horror
- Murdock has been working with Mr. Hughes as of 2015
- Stanley Kramer
(Murdock took an amazing series of Film Production seminars from fascinating Mr. Kramer in the mid 80s at Bellevue Community College)
- Stanley Kubrick -
I studied three directors in college, he was one of them.
-

Akira
Kurosawa -
I studied three directors in college, he was one of them.
-
Robert Rodriguez- Ridley Scott- Stephen Soderbergh- Quentin Tarantino- Andrei Tarkovsky- Francois Truffaut
(And the
auteur theory
) I studied three directors in college, he was one of them.
-
Wachowski Brothers
(For the Matrix movies if for nothing else)
- John Waters- Wim Wenders- Lina WertmüllerFavorite Films
(Again, these are some of many. For some of these directors it is so hard to name only a single film of theirs, so a few were simply chosen as interesting ones. Also listing the person involved in their being mentioned and the film's date in the case of there being more than one version of a film.)
- 2001 A Space Odyssey
(Stanley Kubrick)
- Being There- A Clockwork Orange
(Stanley Kubrick)
- Blade Runner
(Ridley Scott)
- Casablanca
(
Humphrey Bogart
)
- The Duelists
(1977 Ridley Scott)
- The Enigma of Kasper Hauser
(
Werner Herzog
)
- The Girl with the Dragon Tattoo
(From the
Stieg Larsson
novels, the original Swedish version film though the
American version
was also good.)
- The Godfather
(Francis Coppola)
- The Good, The Bad, and the Ugly- The Magnificent Seven
(and The Seven Samurai)
- The Maltese Falcon
(1941,
Humphrey Bogart
)
- Matrix
(
Wachowski Brothers
)
- Memento
(
Christopher Nolan
but really let's face it, it's all about the structure of this particular gem)
- Samurai I: Musashi Miyamoto
- and series (trilogi)
- Night of the Living Dead
(1969)
- Rope
(Alfred Hitchcock)
- The Seven Samurai
(and The Magnificent Seven)
- Slaughterhouse Five
(From the
Kurt Vonnegut
novel)
- Solaris
(The
Andrei Tarkovsky
original, not the also fairly good
Soderbergh
American version
, both from the excellent
Stanislaw Lem
book)
- Stardust Memories
(
Woody Allen
) - Stardust Memories / Play it again, Sam / Bananas / Love and Death / Annie Hall / Manhattan / Interiors / Broadway Danny Rose / Zelig / Sleeper / on and on...I studied three directors in college, he was one of them.
- The Thin Man- The Tale of Zatoichi
- and series
Favorite TV Shows
- Considering time and genres this could go on forever, so to name a few. In looking over a list of seminal TV shows, I could easily quadruple this list. But you get the idea from these.
- Alfred Hitchcock Presents- All in the Family- Black Mirror- Breaking Bad- Dexter- Downton Abbey- Firefly- Homeland- House- I Dream of Jeannie- I Love Lucy- I Spy- Fawlty Towers- Game of Thrones- The Good Wife- Kids in the Hall- Lexx- The Man From U.N.C.L.E.- Monty Python's Flying Circus- Orphan Black- Outer Limits- Red Dwarf- The Rockford Files- Saturday Night Live- Star Trek
(TOS - the original series)
- The Twilight Zone- The Walking Dead- The West Wing- X FilesArtists
(In a letter to Murdock from Clive Barker, dated 9 August 1988, Mr. Barker said: "
As to inspiration, I look for it and find it in all kinds of places. At the moment it's particularly paintings hat insprie me.
" Mr. Barker has now become quite the artist himself.)
- Francis Bacon- Clive Barker- William Blake- Hieronymus Bosch- Caravaggio- Dali- Leonardo Da Vinci- H.R. Giger
- Van Gogh- Francisco Goya- Matthias Grunewald- Gosling
(Murdock's daughter's stage name. A talented artist and musician in her own right.)
- Marvin Hayes
(Murdock's brother with a single parent between them.)
- Magritte- Edvard Munch

Art and Book Stores
- ABE Books- Alibris - Artlino- Eagle Harbor Books- Elliott Bay Book Company- Liberty Bay Books- Lopez Books
-
Poulsbo Book Stop- Powell's BookOther- Civil Air Patrol (US Air Force Auxiliary)Martial Arts- Aikido -
Hombu Dojo
- World Headquarters. Murdock switched to Aikido in 1980 while in his first year of college.
-
Isshinryu Karate
- beginning in 1965 at Steve Armstrong's South Tacoma Washington dojo.
- Isshinryu Karate Hall of Fame,
Steve Armstrong
Sensei - from 1965-1969 and later through many tournaments.
- Kitsap Aikido -
Murdock is on the board of directors of a non-profit Aikido school.
Music \ DVD Stores- Deep Discount- Tower Records
(As they gave Murdock work during \ after college in their Posters, Records and their Video stores in two cities, Tacoma,\ and later Seattle, WA. The last of which he worked along aside
Jeff Ament
of bands such as Green River, Mother Lovebone and finally
Pearl Jam
. Back when they worked together at the Seattle Mercer Street store. Jeff was in Green River. One day he turned his job as Media Buyer over to Murdock when he left to become, in Jeff's words: "A real musician." Murdock assured him of anyone working there, he believed Jeff could actually make it.)
- Everyday Music
(As they have employed Murdock's daughter now in two cities and are all around pretty cool.)
Video Stores
- Tower Video
(now out of business, but I worked there)
- Scarecrow Video Seattle
(Awesome people, store and collection of hard to find films, now a non-profit working with the University of Washington.)
Music
(Music is so ubiquitous in so many people's lives that there's so many it's difficult to consider which to mention. So perhaps just a few less typical ones? Murdock grew up through the obvious rock background. Going back to his childhood in the 60s, his older brother and sister had a local Tacoma, WA rock band. Band practice in the late 60s was every Thursday night. If you went outside during the practice, you'd see families around the neighborhood sitting out on their front stairs outside, just sitting and listening and talking.
Back in the 60s Murdock was into rock, pop on the radio, as well as classical and experimental. Which left his friends and family wondering just what was up with him. Below will be mentioned an artist and then a favored album. Some were essentially the soundtrack to his high school years. Bands such as The Beatles, Led Zeppelin, Pink Floyd, Jethro Tull, Black Sabbath and so on.)
- The Beatles
('nuff said, there) - An early teen, Murdock saw The Beatles with his older sister on their second visit to Seattle at the Colosseum (August 25, 1966), when their older brother declined to go, having said that he had heard you couldn't really hear the band over all the girls screaming. Which was found to be all too true as the band was using small amplifiers so that you could almost hear their songs but not quite. Even his sister was annoyed. .
- Black Sabbath
(Mostly,
Master of Reality
and especially on that album,
Children of the Grave
and
Sweat Leaf
)- 1970, as his intro to this new album when it came out was an amazing week. He was sick with bronchitis, on codeine cough syrup and made to stay in bed at home reading
Dune
by
Frank Herbert
which led to his writing his first short science fiction story. Side story, during his first year in college he found out that Mr. Herbert didn't live that far away and he considered driving over to his house and asking for an interview. But as many of us do, he didn't follow through and when Mr. Herbert died, he regretted at least trying ever since.
- Wendy (Walter) Carlos
-
(
The Well Tempered Synthesizer
- 1969) - Walter Carlos to me as a kid in the 60s. In the 80s I looked up his albums and couldn't find him, only a Wendy and came to realize that was now who he was.
- Donovan
(Esp.
Hurdy Gurdy Man
and
Donovan In Concert
(this link goes to the unedited version of the eventually released album), and then all others) - Murdock was a big Donovan fan and has said that it helped him keep his sanity while in Air Force Tech School at Chanute AFTB in Rantoul, IL. He had a large album collection of Donovan.
- Glenn Gould
(1969)
- Bo Hansen
(
Lord of the Rings
- 1970)
- Jethro Tull
(esp.,
Thick as a Brick
, was Murdock's intro to this band, when it came out. Then later he fell in love with all the others. One day while in the military he was given tickets by a friend who couldn't use them, to go their concert at Wazzu (Washginton State University in Pullman, WA). So he took his wife and they watched a tiny band from the "nosebleed" seats. He received his first Tull album,
Thick as a Brick
from his Great Aunt and Uncle who gave him some albums laying around when he was visiting them in Philadelphia with his mother and younger brother.
The east coast relatives had been renting an apartment they owned next door to them, to some younger guys who got busted by the police and went to jail for building furniture with secret hiding spots for drugs. One might also assume some drugs were involved. The Rolling Stones,
Sticky Fingers
album with the zipper on the front, was one of them.
Thick as a Brick
had a fold out newspaper which is worth a lot now. Murdock wishes he had kept it when, during the summer of 1985, he sold all of his albums thinking vinyl was going the way of the 8-track which he had gotten stuck with when music started coming out on magnetic tape cassettes.
- Led Zeppelin
(Esp., first four and then all others)
- Mike Oldfield
(mostly for
Tubular Bells
, the theme song from The Exorcist)
- Pink Floyd
(Esp.,
The Dark Side of the Moon
,
Wish You Were Here
; then later their earlier albums and then all others, although
The Wall
was great, but not my favorites)
- Alan Parsons Project
(Esp.
Tales of Mystery and Imagination
and the award winning
I, Robot
) - from the producer of Pink Floyd.
- Morton Subotnick
(
Wild Bull
- 1968) - Murdock still very much loves this album to this day, although Mr. Subotnick seems to be most noted now for his
Silver Apples of the Moon
album.
-
Three Dog Night
- Murdock saw them when he was in twelfth grade in 1973 with his eleventh grade girlfriend from another high school (his female cousin's) at the time, along with his sister and her eventual (to this day) husband.
- Rick Wakeman
(Esp.,
Journey to the Center of the Earth
,
Six Wives of Henry the VIII
and then all others).
Publishers- Zilyon Publishers
(And
Cal Miller
)- Publisher of JZ Murdock's,
Death of Heaven
and
Anthology of Evil
.
Film Productions- Scorpio Pictures
(now Scorpio Studios and relocated, worked with them over five years in the late 90s early 2000s with Executive Producer Kevin Summerfiield and Producer Sean Davis)
- Stanley Kramer Film Production Seminars
(1985 I attended these at Bellevue Community College, Washington because Mr. Kramer's daughter lived in the area)
---